"With Great Power Comes Great Responsiblity!"
How can you not reference Spider-Man or more specifically Uncle Ben in describing anything about super heroes? Especially a site built especially for the shopping of super hero items!
We need heroes. We need people to look up to, to model ourselves after, and take our minds off so much turmoil and chaos.
The world has been plunged into anarchy. The World has been plagued with a new disease called COVID-19. We are going on three years of COVID-19 now, crime has surged in the United States ever since. Violent crime has climbed by 12 percent in U.S. cities, murder, rape, and aggravated assault all climbed by 25 percent or more.
Homeless camps are popping up all over the U.S bringing violence, drugs, weapons, and defecation with them. Rising housing cost around the U.S are only adding to the people that cannot afford to own OR RENT and ending up homeless.
We have a outright war going on between Ukraine and Russia. While the United States is in a more of less silent proxy war via Ukraine with Russia. Beyond that rumors of war with China and Taiwan which would make a second proxy war with the U.S or worse. So in these times what do we need? Other than alcohol? We need heroes. We need people to look up to, to model ourselves after, and take our minds of so much turmoil and choas.
I think that is why everyone loves superheroes so much, because they are just like us except better at everything. They have super powers and powers beyond understanding. They fight for justice and protect those who cannot protect themselves. That is what we need right now more than anything else: Heroes!
It's easy to get caught up in all this fear, uncertainty, doubt and even depression when it seems like there is no end in sight to all these problems that we face each day. So what do we do now? Do we sit back and wait until someone else fixes everything for us or do we become our own heroes?
I believe every single one of us has the power within ourselves to be our own hero but most of us don't realize it until life throws us some curve balls that we can't seem to hit out of the park no matter how hard we try. When you feel like giving up hope because things aren't going well for you personally or professionally then remember all those people who have gone through worse situations than yours yet still managed to come out on top with their heads held high!
Thus why we made this site. Because our family of 7, if you know us, you know that we are a family all the things "hero" and we, like most, are suffering too. We, like most, are feeling the pressures of the day to day. The pressures of work, bills, rumors of wars, shortages, stress, and depression. We are the same as all of you. We wanted to point the world to something different to something better. So we made this site to sell something that takes the minds off the bad if even for a moment. It helps our family get our bills paid, get out of our debts hopefully one day, and to a brighter tomorrow. Which is what we all want, isn't it? So we made this site where we can sell hero merch for all your favorite heroes including Captain America, Iron Man and more!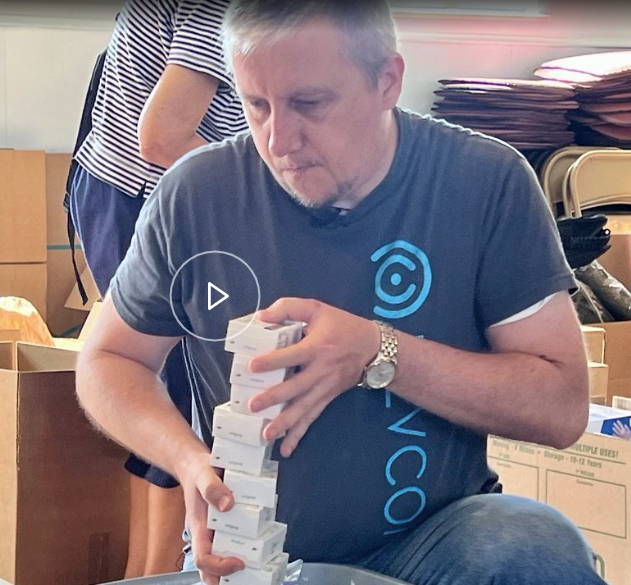 Article credit to Nicole Griffin of Spectrumlocal News
ORANGE COUNTY, Fla. — With the ongoing war in Ukraine, people all around the world — including in Central Florida — are stepping up and collecting donations to support the Ukrainians as they fight for their homes.
Vasyl Lushchyk said he spends all his free time sorting and packing. Inside St. Mary Protectress Ukrainian Catholic Church in Apopka, he organizes donations to be sent to his homeland.
"We have to help people," Lushchyk said. "They lost their homes. They lost their families, everyone."
As a proud Ukrainian, this is a task that Lushchyk feels is calling him.
"I don't think anyone in the community can deny that we are trying to help Ukraine, so we started as the next day," he said. we started collecting, even though we didn't know where to deliver the items we started collecting.
Since then, donations have come from across the community. For Lushchyk, it meant a lot, because almost his entire family still lived in Ukraine.
He moved here three years ago to seek better medical care for his wife, who has cancer.
Of all the destruction that has taken place in Ukraine, he said that medical needs are now most needed by Ukrainians, making it his top priority. When Lushchyk lost his wife last year, he was the proud father of three children, and his eldest followed in his footsteps by studying mathematics at the same university he attended.
"He returned to Ukraine to study at college, so I'm really proud of him," Lushchyk said.
But this unrest stopped her heart because her daughter's flight back to Florida was canceled a few days before the attack. "As a father, I felt scared because I knew he wanted to stay there because all his friends and relatives were there," he said.
While back in Florida, most of his friends and family decided to stay and fight for their country, which gave him more motivation to acquire these supplies. When he and the volunteers finish packing, they are sent to Poland and then the border is removed.
"No one wants to divulge all the routes, but yes, I believe everything will be provided to people who really need it," he said.
This is a task he plans to go through because his country needs help. While in Central Florida, his heart was in Ukraine.
"If I could, I would be there," Lushchyk said. "I'll help, you know. I'm helping here as best I can."
Lushchyk and other volunteers are always looking for many gifts and helping hands. They only accept certain types of gifts that are listed here.